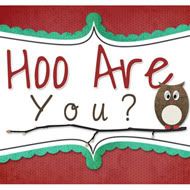 I know i'm late doing this..........time keeps getting away from me!!!


Here are this week's questions!
1. Is all your Christmas shopping done?
For the most part, yes!! We still need to get the boys their stocking stuffers, but that's it!
2. Do you decorate for Christmas and if so when?
Sure do!! The past two years i've had to downsize the decorating since we are in such a small house now. I LOVE to go all out, though!! We put our tree up right after Thanksgiving. Hopefully next year we will be in a new home and will be able to decorate outside again!!
3. Do you bake during the Holiday season?
Oh yes, and being a diabetic it isn't always a good thing!! We do basic cookies, like chocolate chip and sugar cookies and we just started doing candies, like peanut brittle and chocolate covered pretzels.
4. What are your favorite smells of this time of year?
I love the smell of cookies baking and the smell of fresh cut Christmas trees...even though we have an artificial tree!!
5. What are your favorite things to do during the Holiday Season?
Every Christmas Eve we go to Pigeon Forge and Gatlinburg to see all the lights!! The boys love it, and it will be even more magical since our youngest is old enough to really be into all the lights! Every morning when we take our oldest to school and we pass lights Chase will say "Christmas lights!" We also get a funnel cake up in Gatlinburg, yum!! It's our family tradition now! (and it helps that we only live 25-30 minutes away!)
I love doing these SO much!!!!!