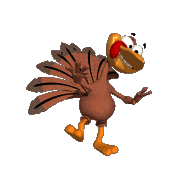 So I took our turkey out this morning. He is now sitting in the bathtub with cold water.....thaw out, baby!!! mmm, I have been wanting some turkey with all the trimmings for SO long!!! It's just going to be us this year as usual, but that works for me. I'd love to have family here, but I get so sick and tired of all the "excuses" they make for not being able to come for the holiday. But hey, we are the one's who decided to move away, right?
I was going to wait until after thanksgiving to get the rest of our Christmas stuff out, but I think I may do that starting today.......the Christmas tree looks so lonely and bare with just lights on it. LOL I am SO excited about getting the house all decorated!!!!

I'll be sure to post some pics of the tree and decorations, and I would LOVE to see pics of everyone elses decorations!!! If you do post pics, send me the link to your blog so I can see, please!!!