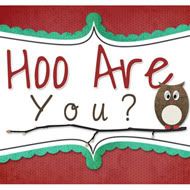 Ok, so I stumbled on a really amazing blog called
Night Owl Crafting
and every week they do a Blog Hop, where you answer questions and link up to their site, then go to others blogs and comment! It sounds like SO much fun, so I want to try and do this.......here are this weeks questions!!
1. Do you type on a keyboard the correct way or do you peck like a cute little chick?
It really depends on what i'm typing out. If i'm just doing a quick post somewhere I usually do the peck typing, but when I do a long post (like to my blog) i'll type the "correct" way
2. Typically how long does it take you to get ready in the morning?
Honestly, not long at ALL! During the week I get up between 6-6:30 to take my oldest to school. My routine is usually get up to pee, wash face and brush teeth, then get dressed and then work on getting Ty up and ready.
3. Do you prefer lip gloss or lipstick?
Most definitely a lip gloss/chapstick girl!! I don't like the way lipstick feels on my lips....(weird, I know!)
4. Do you take clothes to the dry cleaner or wash them yourself even if they say dry clean only?
I don't own anything that is dry clean only, thank goodness!!
5. Do you prefer Wal Mart or Target?
Target!! Actually, Super Target!!! I absolutely LOVE their dollar section...especially with Christmas around the corner!! They have so many cute things for stocking stuffers!! (and some super cute scrapbooking things for only $1!!)
Woohoo, that was SO much fun!! (I just hope I did it right! LOL)